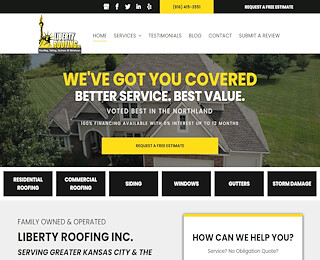 As you consider the numerous benefits of updating your Kansas City home's siding, contact Liberty Roofing, Siding, Gutters, & Windows to discuss your objectives in purchasing new siding. Our knowledgeable staff is happy to discuss the different advantages of vinyl, steel, and wood siding. Kansas City enjoys all four seasons, including the humid days of summer and freezing winter nights. Being aware of the pros and cons of your siding options for your home's location will help your family be comfortable and happy for many years to come.
Who Doesn't Appreciate Energy Efficiency?
Picking the right siding for your Kansas City home means you will keep outdoor elements from penetrating. Your home will stay cooler in the summer and warmer in the winter, using less energy to maintain a comfortable environment. When you choose seamless steel siding, you will enjoy superior insulation as it radiates heat and helps to keep energy consumption from going unchecked.
Which Siding is Better for the Environment?
Since seamless siding is precision-cut to exact measurements, there is little to no waste- so less material ends up in the local landfill. Steel siding has the added benefit of being recyclable, and most Kansas City homes and businesses can use this product. That's good news for homeowners looking to reduce their carbon footprint within their community. As more and more homeowners take steps to become more environmentally responsible, we can all benefit from living on a greener planet.
Is a Lifetime Warranty Available?
Many siding products are available with lifetime warranties that offer tremendous value to our customers. As technology improves the quality of siding products, we can provide more value at a lower price point. Something I'm sure you appreciate. Liberty Roofing, Siding, Gutters, & Windows guarantees our artistry as well! Call us with confidence, knowing you're hiring a reputable contractor in the Kansas City community.
Do you Need Additional Information on Siding for Your Home?
Our website has additional articles and information on home improvement projects. Look for helpful advice, tips, and information on how to handle insurance claims, filing, and what to do if you have experienced hail or storm damage. Also, don't forget to take advantage of our online special of $100 off the cost of any siding or re-roofing project. You may also view customer reviews on past projects on our website, Google, or Facebook. Weigh the pros and cons of siding, and we're confident you'll be a believer in the advantages of utilizing the newest technology and materials to protect your most significant investment.
The knowledgeable siding team at Liberty Roofing, Siding, Gutters, & Windows is happy to answer questions or respond to your requests on product information. Call us today or click on the "Contact" page of our website. We'd love to sit down with you to discuss your objectives and budget. Request a free estimate?for your home's siding today!

Are You Looking at New Windows? Consider Us For Installation

While our professionals replace old siding on your home with new, energy-efficient materials, you may give some thought to upgrading the windows in your home, as well. At Liberty Roofing, Siding, Gutters, & Windows, we install high-efficiency Pella windows that lower energy bills and help homeowners maintain a more comfortable environment. In the winter months, Pella windows work overtime to keep out cold and drafty air, while in the summer, Pella is still working hard to keep the sun's damaging UV rays out and cool air in. Pella windows are uniquely designed and manufactured to provide exceptional beauty and unmatched protection from world-be intruders and Missouri temperature extremes.

Roofing Pros in Liberty

Why stop with new siding on your home and leave it only half protected from driving winds, rain, hail, and storm damage? Liberty Roofing, Siding, Gutters, & Windows employs professional roofers who are knowledgeable in all phases of roofing, including minor and major repairs, roof replacements, and new construction roofing. With so much invested in your home, it's a smart move to schedule an annual roof inspection to look for leaks and compromises that could cost a lot to repair if left unnoticed.

Gutter Experts, as Well

DIY gutter inspection is a leading cause of emergency room visits due to falls from ladders. Our crew can inspect your gutter system for clogs and areas that may need a repair. With gutters and downspots working correctly, rain water doesn't have a chance to pool around your home's foundation and cause chaos. We'll protect your home from top to bottom, improving curb appeal, as well. Can you think of a single reason not to call us when you need new siding, roof repairs, beautiful new Pella windows, or gutter repairs?
siding Kansas city
Liberty Roofing, Siding, Gutters & Windows
8164153551
109 S Main St
Liberty
MO
64068
View Larger Map